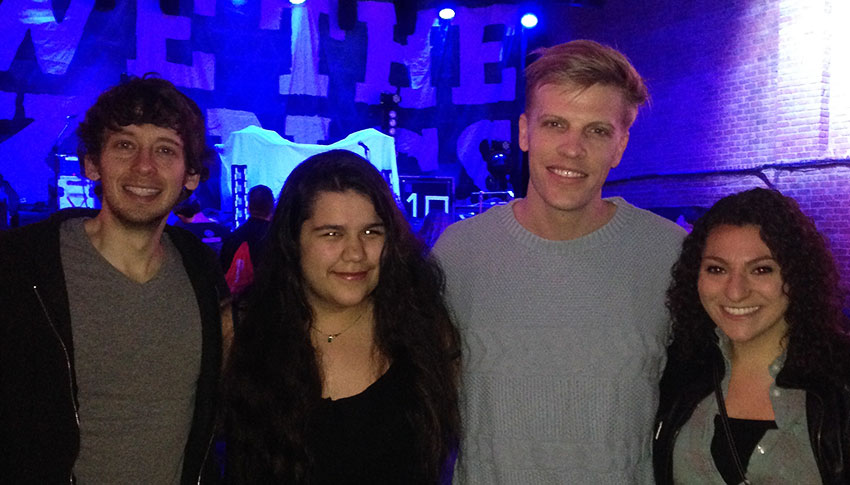 Tristan Martin and Jordan Davis of Astro Lasso with Little Sister Melissa and Big Sister Sharon
A concert can be a unique experience for matches. Big Sister Sharon, who volunteers with BBBS of Monmouth & Middlesex Counties, and Little Sister Melissa attended a concert together in February and had an unforgettable time. The two saw indie pop band Astro Lasso along with We The Kings, Cute Is What We Aim For, and Plaid Brixx.
"We were so close to the stage too – we were able to cheer and reach hands with all the bands," Big Sister Sharon said. "Melissa and I had so fun dancing, screaming and letting loose."
At one point, members of Plaid Brixx gifted roses to several fans, and Sharon and Melissa brought a lot of energy, hoping to be noticed. The band must have had a good eye.
"I kid you not, Melissa got one," Sharon said. "It might have also helped I was next to her flailing my arms pointing to her to draw attention in our direction."
The magical night started before the concert, when the two got to meet Astro Lasso and their manager Frankie Muniz (the actor who played Malcolm in Malcolm in the Middle).
The band and manager have partnered with Big Brothers Big Sisters to offer Mentoring through Music Experiences for Bigs and Littles. Since mid-February, they have been touring the U.S. and inviting matches to enjoy their shows and a pre-show meet-and-greet.
"The band and Frankie were so friendly and attentive to us," Sharon said. "Melissa was so confident and immediately started talking to Frankie all about Malcolm in the Middle and how she's the middle kid too."
Sharon said she enjoyed seeing her Little's self-assurance and watching her just being herself.
Astro Lasso's tour ended on March 27, but the band and Muniz are committed to finding more ways to work with Big Brothers Big Sisters. If you aren't able to catch an Astro Lasso show, maybe look for tickets to see another band that you both enjoy.
Based off Big Sister Sharon's experience, she would highly recommend it.
"It's moments like this, when you can be a part of making someone so happy and creating one-of-a-kind memories, that remind me how rewarding and fun being a Big Sister truly is."