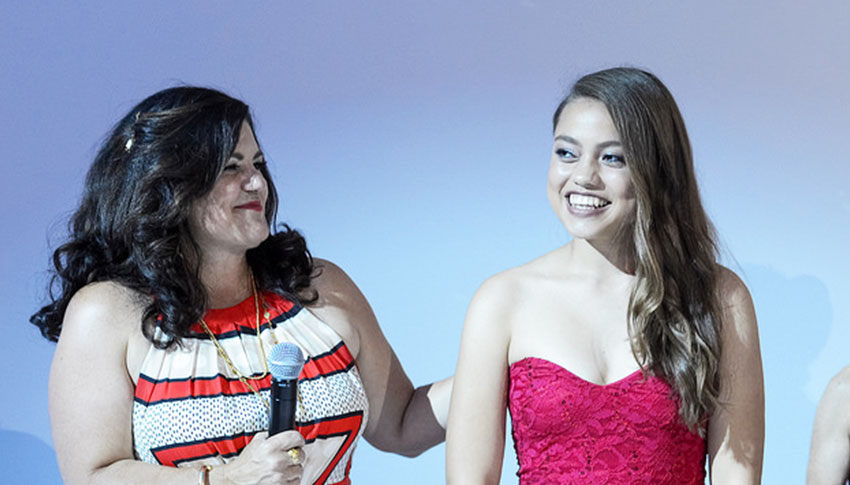 Big Sister Shannon and Little Sister Mykayla
Little Sister Mykayla's mom to have a relationship with her daughter like Rory and Lorelai from "Gilmore Girls." The mom and daughter were so close in age that they were already best friends.
But throughout Mykayla's childhood, her mother was sick. She was diagnosed with cancer when Mykayla was still a toddler, and she dealt with other severe illnesses and injuries. "My mom has been sick in some shape or form for the majority of my life," Mykayla says.
Mykayla's mom enrolled Mykayla as a Little Sister when she was 10 years old. She wanted her daughter to have someone to talk to, a role model. "As close as we were, Mykayla still needed an outlet of her own, aside from me." Mykayla's mom says. She was soon matched with Big Sister Shannon.
As the match was just starting out, Mykayla and her mother lived with her grandmother. Mykayla and her grandmother were very close, but just a few months after she was matched with Shannon, her grandmother died.
"It was unexpected for Mykayla," Big Sister Shannon says. "She knew she was sick but she didn't see that coming at all. It was really a tough time for her, so we spent a lot of time together at that point."
"She's been with me for every milestone in my life. From listening to me ramble about my first serious crush to consoling me when teenage drama became too much, she's always been there."

– Little Sister Mykayla
Now living alone with her mom, Mykayla had to take on more responsibility for caretaking. When her mom had a doctor's appointment, it was Mykayla pushing her wheelchair and getting on the city bus with her to get to the doctor's office.
"Any time I was in the hospital, I couldn't be 100% mom, and Shannon picked up on that," Mykayla's mom says.
Spending time with Shannon gave Mykayla the freedom to be a kid. When she returned home from hanging out with her Big Sister, her mom says, Mykayla had a light about her again.
Throughout their match, Shannon encouraged Mykayla to be herself and to give back. She provided the outlet and encouragement that Mykayla's mom was looking for when she first enrolled her daughter as a Little Sister.
Now, Shannon describes Mykayla as a confident, cultured, well-read adult. She took Advance Placement classes in high school, sang in the school choir, and has been accepted into college. "Taking care of my mom was a sort of first inkling on what I want to do," Mykayla says. She plans to study kinesiology and become a physical therapist.
Eight years after they were first matched, even with college looming, Mykayla and Shannon are still spending time together.
"I thought that I would be involved for a year in this program, but instead, it's been eight years," Shannon says. "And it's never going to be over for me and Mykayla. We're going to be in each other's lives forever."
Shannon says she knows Mykayla will also eventually become a Big herself. "Any child would be lucky to be matched with her," Shannon says. "I know I was."