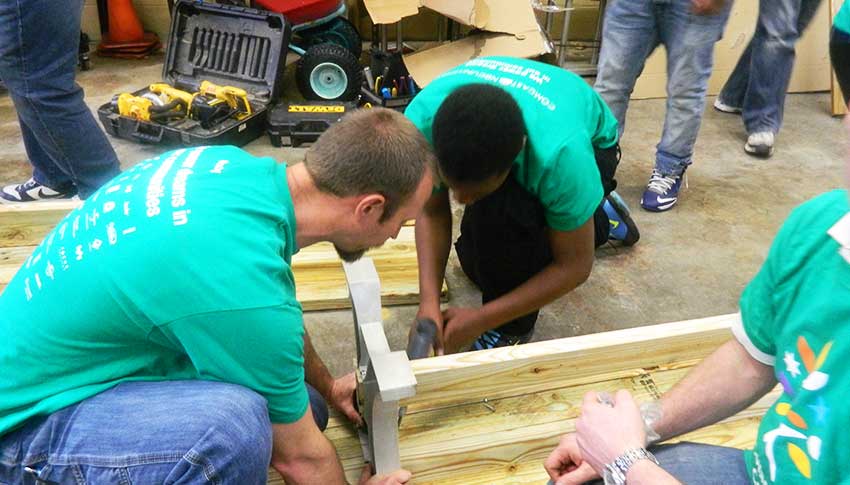 Big Brother Cory builds a bench to beautify a local school as part of Comcast Cares Day
More than 400 volunteers will flood the grounds of Sto-Rox High School near Pittsburgh in April to clean windows, mulch new flower beds, and plant trees. Part of Comcast Cares Day, Comcast NBCUniversal's annual celebration of their company's year-round commitment to service, the project will be a much-needed makeover for the school. "The high school is like a blank canvas," says Big Brother Cory, who is leading this year's Cares Day project.
Cory, an accounting and finance supervisor with Comcast in Pittsburgh, is a Big through Beyond School Walls, a program that matches youth with Comcast NBCUniversal employees who mentor them a couple of times a month at their workplace. He has been a Big for seven years, since the program started in his office.
His current Little Brother, Camren, is 14. They do one-on-one and group activities led by their Big Brothers Big Sisters match support specialist each week. BBBS and Comcast have brought in speakers to demonstrate new technology, like 3D printers and dimensional software, in addition to organizing games and challenges for the matches.
Every April, Comcast employees nationwide organize and participate in volunteer projects like the Sto-Rox High School project, and the Beyond School Walls Bigs and Littles are often at the center of it all. Big Brother Cory will ride around in his pickup truck, making sure the donated and discounted trees and flowers make it to the school from the landscaping companies that support Comcast Cares Day. Little Brother Camren will be his right-hand man. Cory says making their school look better is good for everyone involved, but especially kids and school staff.
"With the students and teachers, they have the same interactions just about everyday, but on this one day, they work together on something productive for the school. It gives them a break from the usual day to day," Cory says.
This is Cory's third year leading a project at a Comcast's Beyond School Walls partner school to help Littles and their classmates have an improved educational environment. Comcast says that since 2001, more than 800,000 Comcast NBCUniversal employees, their friends, family members, and Comcast's community partners have worked on more than 7,700 projects and volunteered millions of service hours. And to match the efforts of these volunteers, the Comcast Foundation has provided more than $20 million in grants to Comcast Cares Day partner organizations to have a greater impact.
Big Brother Cory says he knows every hour his team spends at Sto-Rox High School will make a big difference. "Simple things like cleaning the windows, that's not something that happens every week or every month," he says. "Maybe the kids don't notice the big improvements, but it's nice to look through a clean window."
Cory also knows that mentoring a student like Camren will make an important impact on his success, having grown up in the same city and benefiting from mentors as he transitioned into high school.  
2017's Comcast Cares Day is April 22. To learn more about Comcast Cares Day and Comcast NBCUniversal's commitment to volunteerism, click here.