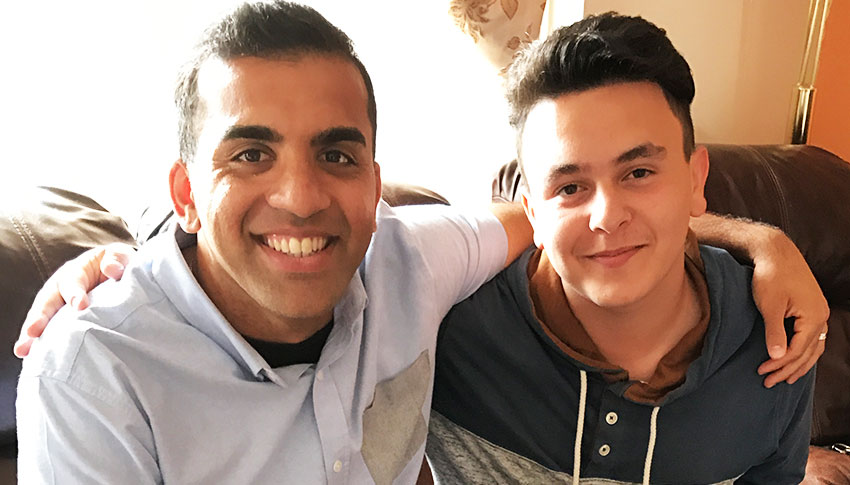 Big Brother Jason and Little Brother Yousif
Leaving behind their homes, their jobs, and their support systems, many Chaldean families leave Iraq to build new lives in the United States.
Chaldeans are Christians who often experience intense persecution in Iraq. Many families settle in Michigan or San Diego, where there are large Chaldean communities. Big Brother Jason's parents immigrated to the U.S. in the 1980s, and he grew up in a Chaldean community in San Diego.
He says that even though he was born in the United States, adapting to American culture is an everyday battle. "We're an Eastern culture going into a Western culture, and while we do take on some Western things, there are some Eastern things we don't let go of, and that can be hard," he says.
A new program through Big Brothers Big Sisters of San Diego County is focused on making that transition easier for Chaldean youth.
Almost three years ago, Bryan Bazzi, a tenant representative for the commercial real estate company CBRE, saw that youth in his community weren't always using the resources available to them. "I spoke to friends and learned that they credit their success to positive role models," he says. He decided to start a mentoring program for Chaldean refugee youth. He partnered with Big Brothers Big Sisters and started planning.
First, Bryan had to make sure this program would work for Chaldean refugees in San Diego. He assembled an affinity group to work on raising funds and recruiting Bigs and Littles. He strategically chose the members of the affinity group to be representative of the Chaldean community and worked with political figures and religious leaders in the community to garner support.
"They understood it, they accepted it, and they said they would back it up," Bryan says. "Once you have that kind of support, people want to know more and they want to be involved."
Second, Bryan had to make sure parents would see the value in the program and sign their children up to be Littles. Building trust was essential, so Bryan worked with social workers who help refugee families transition to life in the U.S. These social workers connect refugee families with housing, jobs, and community services, and now that the BBBS program has started making matches, the social workers will be able to refer youth to BBBS as another community service.
The program, called "Ayana," which means "help" in Arabic, launched in January. Jason is the Ayana program's first Big Brother.
Jason says he feels a responsibility to help kids in his community, and to help his 15-year-old Little Brother, Yousif, see that he can succeed in America. Jason's dad modeled hard work for Jason when he was growing up. "He had a degree where he was from, but he worked long, long hours in Detroit, picking up glass bottles outside of the liquor store and recycling them for the owner," Jason says. Eventually, he became a salesman, and then a manager. Now, he is the general manager of a wine store.
A structural engineer in San Diego, Jason says it was the guidance of a friend who recognized his math ability and guided him into engineering. "My dad worked a lot, and he didn't understand how it worked here, how AP classes worked, how to apply for college, how to get scholarships," Jason says. "My friend made me aware of what's around me and what life has to offer me."
Now, Jason will help Little Brother Yousif with those tasks. "I feel like these kids can accomplish so much, if they have confidence in themselves, if people give them confidence."