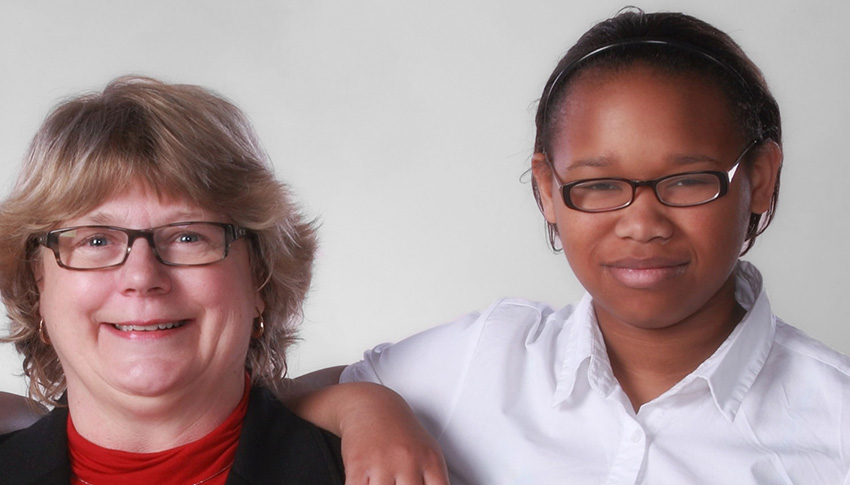 Big Sister Shari and Little Sister Ajaea
Ajaea was 5 when her mother died suddenly. With her father incarcerated, she and her sister went to live with their grandmother. Losing her mom left Ajaea feeling lost and scared. She would barely leave her grandmother's side. "I came home from school and she wasn't there anymore, and I didn't want that to happen to my grandma," Ajaea said.
While shifting her life to accommodate being the only parent to two young girls, Ajaea's grandmother was also dealing with her own grief. She knew that Ajaea needed another supportive adult in her life, so she enrolled her as a Little Sister. At age 6, Ajaea was matched with Big Sister Shari.
"Over the years, Shari has helped me to understand a lot of things that I never understood."

– Little Sister Ajaea
"Shari understood how Ajaea felt about the loss of her mom," Ajaea's grandma says. "Shari encouraged Ajaea to open up about her feelings, and that helped Ajaea to deal with emotions she didn't understand."
At first, every new experience was difficult for Ajaea. She was shy and overwhelmed, but luckily Shari was patient and empathetic. "Shari gently sat down beside me and told me about how her mom had died unexpected also, and how she felt, and that it was okay for me to feel the way I was feeling," Ajaea says.
Before long, Ajaea and Shari were going to the library and playing board games. They took up drawing and painting. And over time, Shari helped Ajaea cope with her sadness and develop her confidence.
Now, Ajaea is finishing her freshman year in high school and is involved with the local Salvation Army. "This shy, traumatized girl now plays several instruments in the band, teaches, and volunteers time with children younger than her, regularly attends sleepaway camp, has developed a healthy social life, opened a savings account, rings bells at Christmas, participates in church services, and volunteers in the nursery," says Big Sister Shari.
Little Sister Ajaea and Big Sister Shari are still matched, and they are committed to staying in each other's lives. "Shari is more than just Ajaea's Big Sister with the Big Brothers Big Sisters program. She's a member of our family," Ajaea's grandmother says. "Not only is she loved by Ajaea, she is loved by our entire family, and I know that Ajaea's mom would love her just as much as we do."