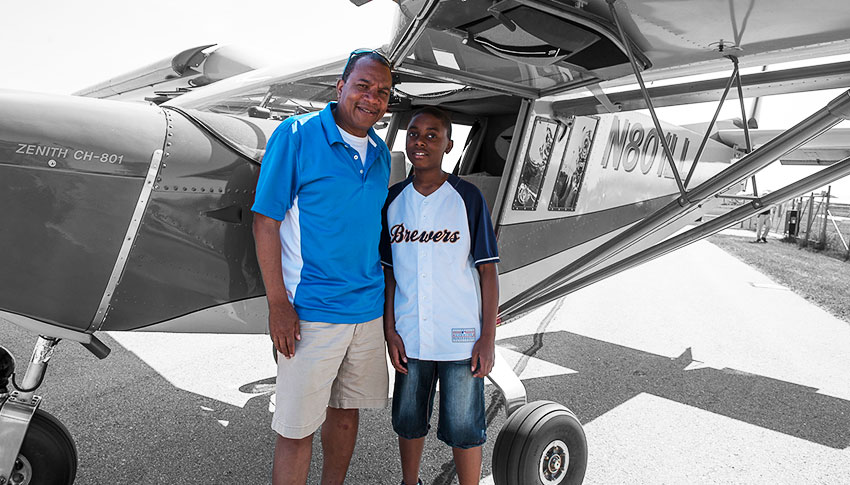 Big Brother Kevin and Little Brother Aden
When Big Brother Kevin was growing up, his father wasn't home much. He worked 13-15 hours a day. "Not once do I remember throwing a football or baseball to him," Kevin says. "It was like he was there, but he wasn't there." So Kevin relied on his uncles to be role models. Knowing that there were many boys growing up like he did, with a dad not involved or not present, he decided to become a Big Brother.
Kevin was matched with Little Brother Aden six years ago, when Aden's mom decided to enroll her son as a Little Brother because his dad's involvement was inconsistent at best. "I wanted Aden to have a consistent, positive role model in his life who could take him to experience new things and help improve his self-esteem," she says.
"He helped me become the young man I am today."

– Little Brother Aden
Together, Little Brother Aden and Big Brother Kevin have gone golfing, participated in Bowl for Kids' Sake, and completed projects around the house. They even visited the local police department once so Aden could learn what it would be like to be a police officer. In college, he hopes to study criminal justice.
Kevin's goal with Aden is always to plan activities that help him gain confidence and self-respect. "The activities Aden and I do are infused with lessons to ensure he's developing into a young man who understands his potential is unlimited," Kevin says.
In the middle of last season, Little Brother Aden's basketball coach quit the team. Without a coach, they wouldn't be able to play the rest of the season, so Big Brother Kevin stepped up and became the new coach.
He had always been at every game, and as coach he was now at every practice, showing his Little Brother what it meant to follow through on a commitment. "I make this commitment to him because it's important that he knows I'm there for him," Kevin says, "because we all benefit from having extra people in our lives who remind us that we matter."
Little Brother Aden couldn't agree more. "He's helped me with lots of my problems and tells me how to deal with future ones," he says.
Whether it's on the court or off of it, current problems or future problems, Aden knows he always has a Big he can count on.