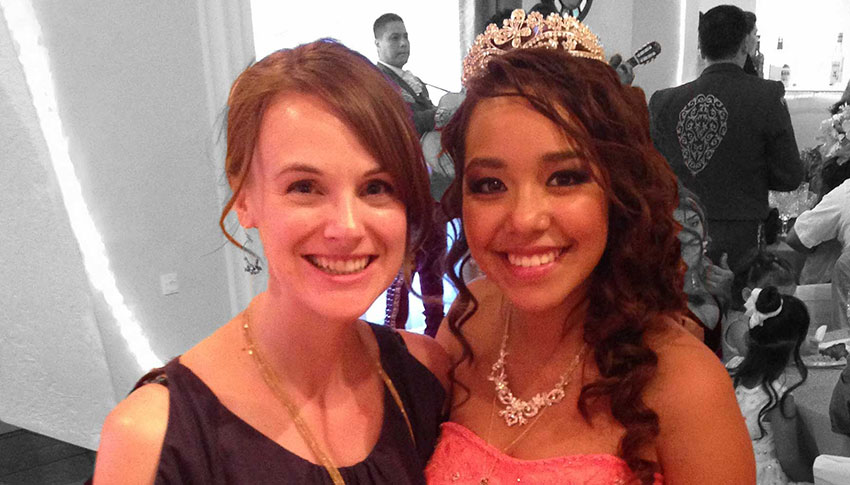 Big Sister Megan and Little Sister Samantha
When Little Sister Samantha beamed confidently from the stage while competing in the "Miss Kearns" pageant, her Big Sister thought about the shy little girl she used to be. On stage, Samantha was almost a different person. "She exuded a confidence that I would have never known existed when I first met her," Megan says.
Big Sister Megan and Little Sister Samantha were matched when Samantha was 10. Back then, Big Sister Megan had to work hard to get her to say anything. "Getting to know Sammy in the beginning was a slow process," Megan says. "She didn't say much unless I asked her questions, and even when I asked her questions, sometimes I only got short answers."
"She is always there for me when I'm in need of guidance, when I need advice, for anything."

– Little Sister Samantha
Over time, the match built trust and Samantha began to come out of her shell. "Conversations are no longer a struggle with her," Megan says.  Samantha eventually began to talk about her friends and her family with Megan, and Megan stayed consistently involved in Samantha's life, even when things got hard. Samantha's home life was unstable, and periodically, it became difficult to contact her because her family's phone was turned off.
Megan found ways to see Samantha even when it was a challenge, and she was there for Samantha in high school when she was planning for her future. In high school, Samantha was an honors student with a 4.0 GPA. Knowing she would be the first person in her family to attend a university, Samantha needed the guidance of someone who had been there. "She is most definitely a role model in my life," Samantha says. "Megan has helped me and has invested so much of her own time to help me apply for college and help me look for scholarships."
Now, Samantha is working full time. She has been accepted to college and dreams of becoming a dermatologist. Even though she has graduated high school, she still keeps in touch with Big Sister Megan, who says she's considering becoming a Big again now that Samantha has graduated.
"When I decided I wanted to become a Big, it never occurred to me what I would learn in the process," Megan says. "Sammy has taught me patience, the importance of communication, the beauty of self-confidence, and the joy and pride that can be felt watching someone else succeed."