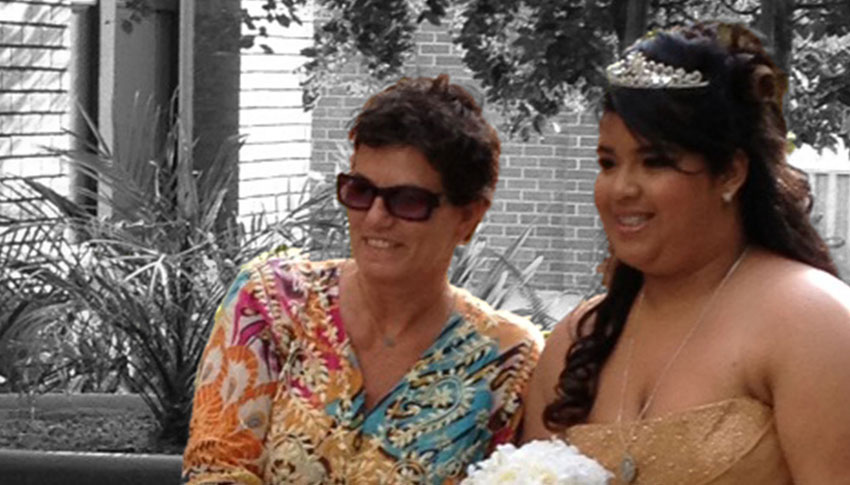 Big Sister Laura and Little Sister America
When Little Sister America wanted to dye her hair a bright aquamarine, her Big Sister Laura brought her to a trusted friend's hair salon. When America wanted a piercing, her Big Sister Laura made sure the piercer was licensed and reputable. "She has never judged me when I wanted something that some people would think was crazy," America says. "She always listens to what I want, encourages me to communicate with my mother, and helps me understand all of the pros and cons."
Big Sister Laura sees that as her role: actively listening to what America wants, and carefully encouraging her empowerment and safety.
When they were first matched, Big Sister Laura learned that America was already dealing with some big challenges at home. Because of her father's deportation to Mexico, America was raised by a single mom. The two shared a room in their tiny apartment. Her mother enrolled America in Big Brothers Big Sisters because she knew she needed a positive role model.
"America was about to enter her teenage years, and a lot of changes were about to happen," America's mom says. "I work a lot, so I was worried about how much time America would have to spend alone. I just wanted someone to be there for her."
"I can tell her anything that's going on and can always count on her to be there for me when I need help."

– Little Sister America
Laura was that someone. In the six years they have been matched, Laura and America have worked toward many of America's goals together.  "There were three things America wanted most when she was 11 – go to a WWE wrestling match, have a dog, and help children in Africa," Laura says.
So, Laura took her to watch wrestling. She didn't surprise America with a puppy, but she did foster America's compassion for animals on their outings by collecting and delivering toys to a dog rescue center and volunteering at adoption events. As America grew older, her goals shifted. She hasn't made it to Africa yet, but she does fully embrace her philanthropic spirit.
"America is paying it forward locally by volunteering her time through the Big Brothers Big Sisters High School Bigs program," Laura says. She also volunteers at a memory care facility, helping elderly folks with their day-to-day needs. "To say America is altruistic is an understatement."
Laura also has an altruistic streak, which extends beyond volunteering as a Big Sister. When America talked to her about the importance of a quinceañera, a celebration of a girl's 15th birthday, Big Sister Laura scoured eBay for a quinceañera dress, arranged for Little Sister America to have her hair and makeup professionally done, and found a photographer to take photos of America and her mom for her birthday. It was a moment that allowed America, her mom, and her Big Sister to bond together as family.
Throughout high school, America kept a part-time job, racked up community service hours, and planned for her own future. The hard work paid off as this past June, when Little Sister America became the first person in her family to walk across the stage and graduate from high school. Her Big Sister Laura was, of course, in the crowd.