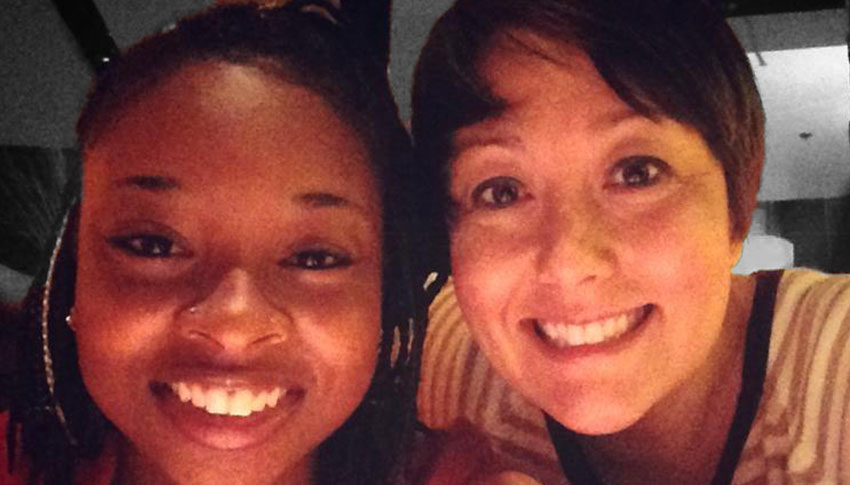 Big Sister Sophie and Little Sister Aaqila
Growing up in Chicago, Aaqila was used to city life. She was used to her school and to the diversity of a city. She was used to being her mother's only child.
When Aaqila was in first grade, everything changed. Her mother moved her from Chicago to Springfield. She changed schools. She was surrounded by fewer kids who looked like her. Not long after their move, Aaqila's mom told her that she was no longer going to be an only child – a little sister was on the way.
"We didn't have family in Springfield, and I knew that the new baby would take away a lot of attention from Aaqila," Aaqila's mom says. "This would also be another major change to her life. So to lessen the impact, and find someone who could give her that undivided attention when I couldn't, I contacted Big Brothers Big Sisters."
"I want her to remember me always telling her to dream BIG and to know that I'm always here for her, to encourage her, protect her, and push her."

– Big Sister Sophie
When she was 9, Aaqila was matched with Big Sister Sophie, who was outgoing, energetic, and silly. Little Sister Aaqila was shy and nervous, but the two eventually built trust and bonded. "As a kid from Chicago, if I wouldn't have met Sophie, there are many things I never would have gotten to do," Aaqila says. "Things like fishing, camping, and riding horses were really cool and new to me."
Before being matched with Sophie, Aaqila struggled in her new school. She was one of only a handful of Black children, and she was bullied. The curriculum was different, and she often felt isolated. "As a result, she was held back and had to repeat the first grade," Aaqila's mom says. "The school diagnosed her with a learning disability and placed her in 'special' classes."
Big Sister Sophie helped Aaqila adjust. She encouraged her to open up and to set goals for her future. By middle school, she was ready to re-enter general education classes, and she began to excel. When Aaqila was in high school, Sophie helped her learn about careers and apply for scholarships. Sophie brought Aaqila to a friend's dental practice for a shadowing opportunity. "Because of that experience, I am planning to go to school in the fall to become a dental hygienist," Aaqila says.
Now, Aaqila has gotten used to her new life in Springfield. She is used to her silly, fun Big Sister being there for her. She's used to Sophie attending her basketball games and helping her talk through problems. And now that Aaqila has started college, her Big Sister Sophie is once again reprising her role of helping her Little Sister adjust to a new school.