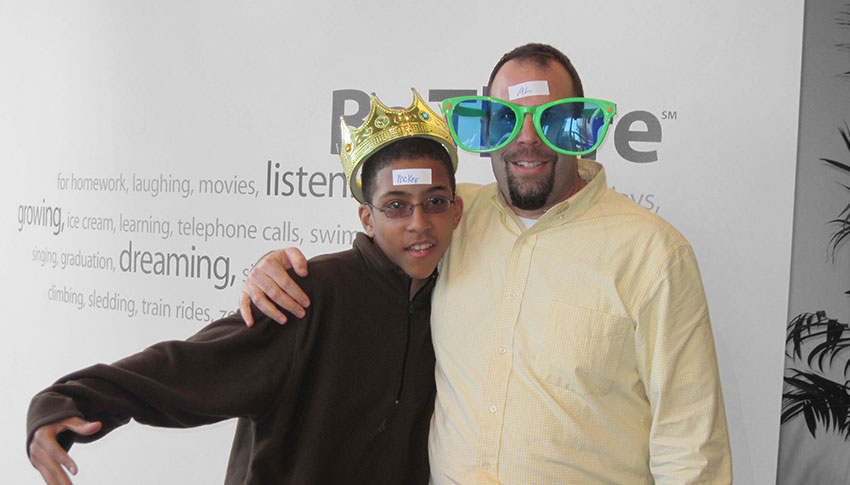 Big Brother Al and Little Brother McKee
When Al met his Little Brother, McKee was a bubbly, fun 8-year-old whose enthusiasm was infectious. His life was just taking shape, and he had plenty of obstacles to overcome and no consistent male role models. "So much has changed, yet so much remains the same," Al says. "We still enjoy similar tastes in music. We still like to be silly—singing and dancing in the car. If our singing and dancing can annoy my boys, then it is even more rewarding."
McKee is always up for new activities, Al says. "His willingness to engage in virtually any outing spoke volumes to me—it didn't matter what we did, as long as we were together," Al says. "Having someone else value your presence validates us as individuals." They have gone on paddleboat adventures, visited museums, played mini-golf, and gone bowling.
Big Brother Al has also been a role model for McKee and a resource for McKee's mom. She knows that when she is struggling with something related to McKee, she can call Al any time. She says there could be no better Big Brother for her son than Al.  "McKee cares what Al thinks of him, and does not want him to be disappointed in him," McKee's mom says.
"After 10 years, Al is not only McKee's Big Brother, but he is an important part of our lives and we are part of his life." -Little Brother McKee's mom
Al has taken McKee to his workplace for Take Our Daughters And Sons To Work Day, where he not only got to see what Al does every day but also got to experiment with his company's 3D printer. For the past 10 years, Al has modeled what it is to be a stable adult.
When Big Brother Al reflects on their match, it's clear he knows the effects haven't been one-sided. He says his relationship with McKee has helped him chart a course for him as a father and that being involved with Big Brothers Big Sisters of Eastern Missouri has shown him that he can dedicate himself to improving the lives of others. "McKee has changed my life perhaps as much as I have changed his," Al says.
Little Brother McKee is 18 now, and he hopes to be a video game designer. When Big Brother Al first heard that, he arranged for McKee to talk with a friend who works in the video game industry. They discussed what classes McKee should take in college and what skills he would need to develop.  Little Brother McKee credits Al for his stability and success. "Al has been there through all of my ups and downs. He's made me the man I am today," McKee says. "I just can't thank him enough for what he has done for me."