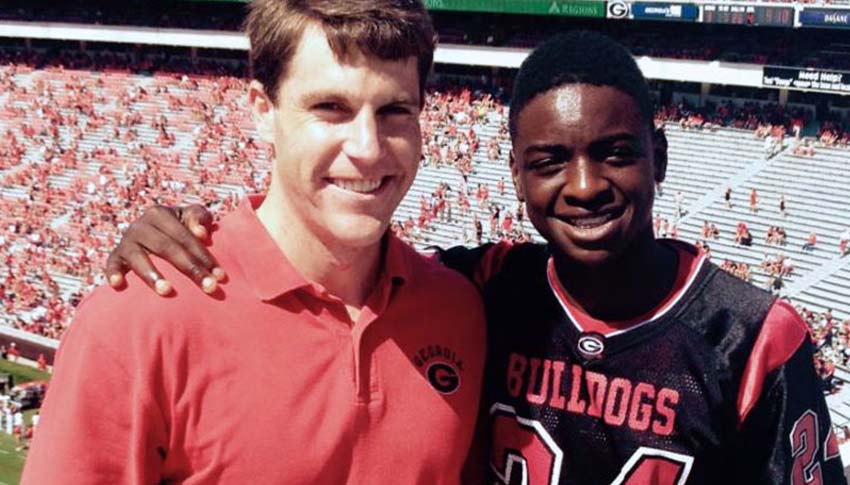 Big Brother Adam and Little Brother AJ
As a sophomore at the University of Georgia (UGA), Adam knew that he wanted to spend his time in college making a difference in his community. One day, he found the Big Brothers Big Sisters table at the UGA student center recruiting for Bigs.
Adam asked himself the same questions many Bigs ask themselves prior to signing up: "What do I know about being responsible for the growth of a child? Do I have the time each month to spend with the child?" Instead of focusing on hesitations, he focused on the profound opportunity he had to help a child. Adam then was matched with a Little Brother for the remainder of his time at UGA.
Shortly after graduation, Adam moved to Atlanta for his new job and knew he wanted to continue being a Big with Big Brothers Big Sisters of Metro Atlanta. Big Brother Adam was matched with second grader, AJ. Adam immediately noticed that his new Little Brother was shy and hesitant because of the absence of caring men in his life. Through much patience and dedication, AJ shared more with Adam. With help from AJ's mother, Adam grew to understand AJ. "AJ's education and achievements are very important to Adam. Big Adam has attended numerous basketball, football games, band concerts, and Boy Scouts events," stated AJ's mom. Adam has been there for AJ at every game or event that was important to AJ. They even have a tradition that on AJ's birthday, Adam is in charge of bringing the cake.
Big Brother Adam has always kept AJ's education and future in mind — helping AJ ace multiplication tests and teaching him the importance of continuing his education after high school. When AJ struggled academically or socially, Adam provided him with the tools necessary to succeed. By exposing AJ to activities that would encourage a sense of accomplishment, Adam has been instrumental in developing AJ's confidence. Being a UGA graduate, Adam knew first-hand the importance of going to a university and has showed this to his Little Brother by making it a tradition to attend at least one Georgia Bulldogs football game every year. This tradition has shown AJ that with a little work, you can get places that will change your life for the better.
With all of AJ's involvement and continued success, he has grown a talent for graphic design and is currently researching colleges, which Adam would love to see his Little Brother be a fellow Bulldog. "The relationship I have with my Little Brother AJ is one that will last forever and will continue to have an impact on both of us," stated Big Brother Adam.