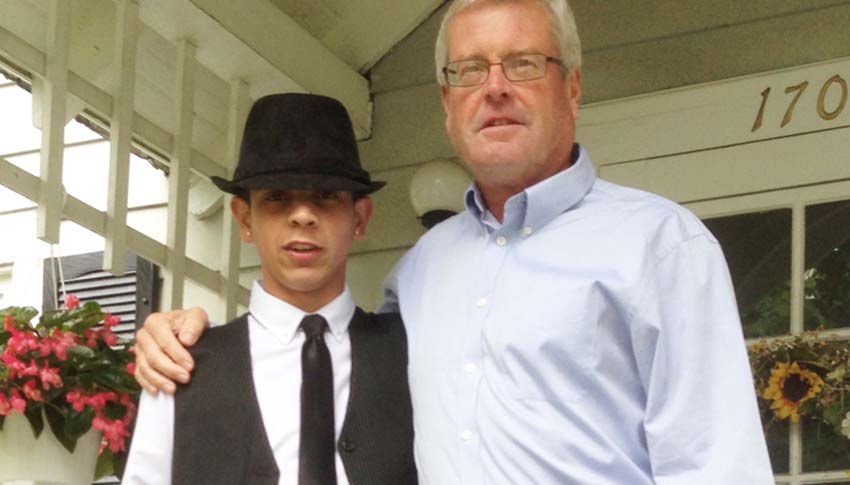 Big Brother Paul and Little Brother Chris
Chris was your typical young boy, except he had already faced many challenges in his short life. After being adopted from Russia, Chris lost his father to cancer. Chris' mom wanted to help her son cope with the recent loss of his dad. Little Brother Chris would be matched with Big Brother Paul in 2011 through Big Brothers Big Sisters of Southern Adirondacks in New York. Big Brother Paul knew shortly after retiring that he wanted to use his new found free time to volunteer in some way, and thought becoming a mentor would be a great way to give back.
Their initial match meeting happened just before Christmas 2011. Little Brother Chris was ecstatic to have a Big Brother and wanted to plan their first outing right away. They started building their relationship by going bowling, skating, golfing, watching movies and playing in arcades. Paul noticed how open his Little Brother was to him and made it a point to reciprocate the trust. Big Brother Paul stated, "He was always open and honest about his likes and dislikes, and with the help of his incredibly devoted mother, he was always ready on time and excited to get together." The trust level kept increasing and Chris would call his Big Brother if he had a rough day at school and needed to vent or get advice.
Their activities went from being completely planned to simply coming up with a game plan when they met up, and would often change. Big Brother Paul and Little Brother Chris would often find themselves going on adventures exploring a park or lake they had never been to, or simply skipping stones in the river. During these adventures, Chris would talk about his dad and how much he missed him, but also mentioned to his Big Brother that the time with him sometimes felt like the time he would spend with his dad. "Bigs are in a special position of being able to offer friendship, guidance and support with no emotional baggage and no pressure – a true judgment-free zone," stated Big Brother Paul.
Paul worked closely with his Little Brother in gaining confidence and understanding that success in life takes discipline and sacrifice. Little Brother Chris has been doing better in school and less prone to frustration and negative self-image. His ticks and anxious habits have decreased and he is better able to handle himself in public. Chris' mother has been very grateful for Paul's impact on her son. "We are so glad that Paul and his family are a big part of our life. Chris has grown up because of him."