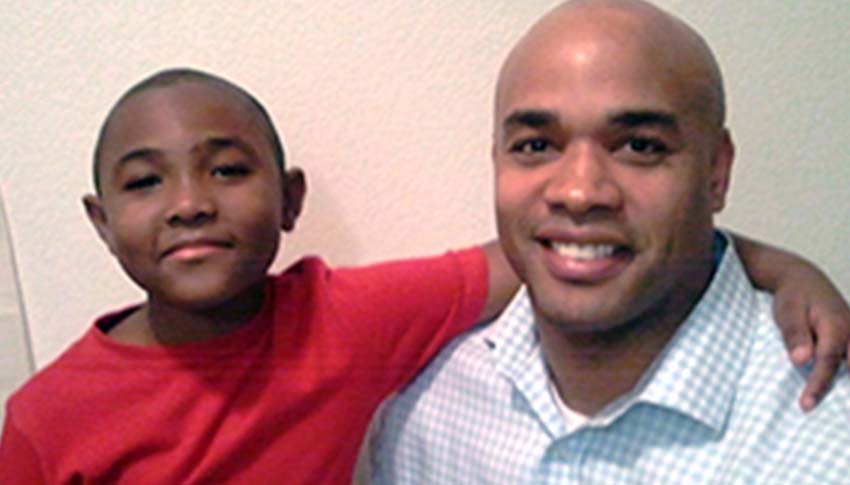 Big Brother Marcus and Little Brother Eric
About one year ago, Big Brothers Big Sisters of South Texas elected a new board member – but not your typical board addition. This new member was 12-year-old Little Eric. A member of the program since he was 5 years old, Eric is very familiar with Big Brothers Big Sisters, having participated in various events and activities over the years.
Eric grew up without a father or brother, so his mother, Scharlena, signed him up with Big Brothers Big Sisters. Before long, he was matched with his new Big Brother, Marcus.
Scharlena mentioned that being matched with his Big Brother Marcus has made a huge difference in his life. "The first time he met his Big Brother, it was a Christmas present," Scharlena remembered. "He was overwhelmed with joy!"
Eric has been heavily involved in supporting the organization throughout his time with Big Brothers Big Sisters. He has been featured in two radio commercials and has been featured in all the major San Antonio news networks. He was featured in the news as an "Extraordinary Kid" when he was just 5 years old. Now, even local anchors recognize him.
Eric works closely with the external relations team to give facility tours and contribute to presentations, and he has even done a bit of lobbying – sharing his story with various state representatives and senators!
"The impact Eric has on our agency is his incredible gift," said Denise Barkhurst, president and CEO of Big Brothers Big Sisters of South Texas. "He makes connections with everyone he comes across, whether it be staff, donors, board members or members of the Texas Congress."
Eric, with the support of his mother, Scharlena, believes in Big Brothers Big Sisters. "I don't want kids to wait," said Eric. "I'm glad there's a program to help others like me who don't have a brother or father."