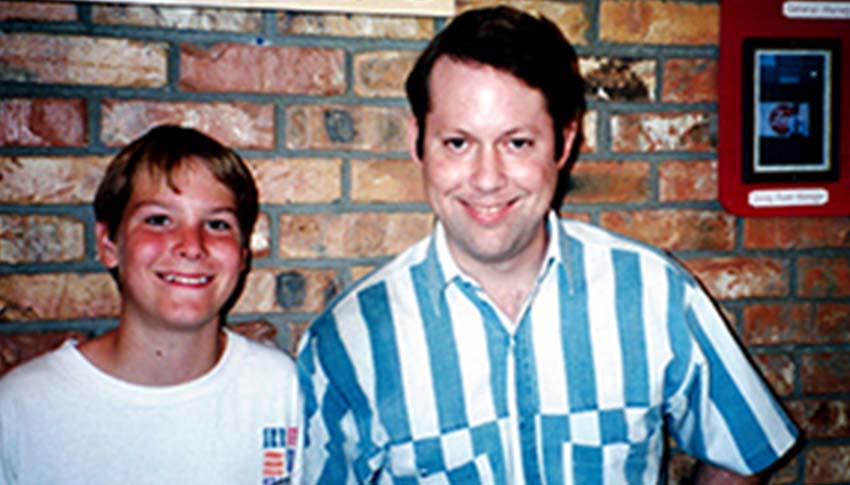 Big Brother Tim and Little Brother Kenny
Nearly 20 years ago, Tim was a reporter working for the Topeka Capital-Journal. At that point in his life, Tim felt the need to give back to his community, so he signed up to volunteer with Kansas Big Brothers Big Sisters. It was at that point that he first met his new Little Brother, 10-year-old Kenny.
"I still remember that day like it was yesterday," Kenny recollects. "We met at McDonald's. I had so much anticipation about what my Big Brother would look like: Would he be short or tall, fat or skinny? When Tim walked in, I felt this huge sigh of relief. 'Oh, good, he looks normal.'"
Kenny's family life was not always an easy one, so having someone in his life like Tim very quickly became a constant, positive presence. The pair realized they shared many similar interests, including sports and classic rock music. Tim and Kenny would get together nearly every Sunday to spend time together, watching sports, hanging out and talking about life.
As a testament to the impact that a mentor like Tim could have on someone like Kenny, in 2011, Kenny became the first person in his family to graduate from college, graduating from Kansas State University. Tim was in the stands, cheering on his (not so) Little Brother.
There's no question that Tim and Kenny's relationship has had a dramatic and deep impact on both of them. Not too long ago, Tim stood by Kenny's side as his best man when he married his wife, Maria. And again in that same year, Tim was at Kenny's side to support him after both of Kenny's parents passed away.
Kenny and Tim both agree they each benefited greatly from their relationship. For his part, Tim, who never married, says that in Kenny, Maria and their son, Kyle, he has family for life. Kenny even gave Tim the honor of being Kyle's godfather.
Tim sums it up like this: "There was never any question in my mind that I would stick by him."