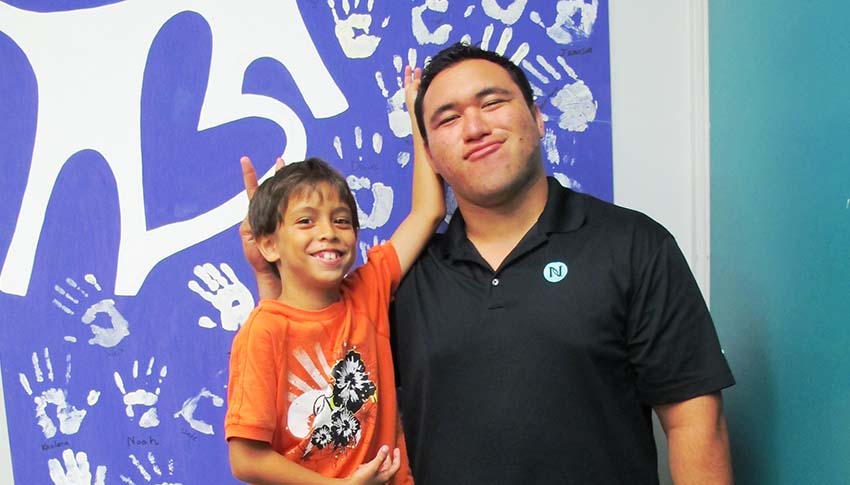 Big Brother Roman and Little Brother Josh
Joshua enrolled in his local program with Big Brothers Big Sisters of Hawaii, in part, because his mother felt like he was watching too much television, and she wanted him to have a chance to experience and learn new things outside of their home. Before long, Joshua met his Big Brother Roman, and several months later, the match is going strong!
Joshua and Roman have developed a very close friendship through their weekly outings. They have had the opportunity to engage in all sorts of fun activities around the area, including a birthday trip to Dave and Busters, swimming at the beach, attending a University of Hawaii football game and learning Roman's "secret fishing technique."
Besides getting to enjoy new and interesting activities, Roman has also had a positive impact on Joshua as a person. Over the course of their friendship, Joshua has learned from Roman how to be respectful toward other people, and also how to use proper manners.
One of their more memorable experiences was when Roman took Joshua to go see the superhero movie, "The Avengers." After seeing it, for a bit of fun, Roman started calling Joshua "Captain," in reference to the Marvel character Captain America from the movie. Joshua, in turn, has started referring to his Big Brother as "The Hulk," due to his big arms.
The pair enjoyed attending a Bowl for Kids' Sake event with Joshua's family recently, where, with his Big Brother's support, Joshua won a dance-off competition and received a trophy for his efforts! It is no secret that Roman and Joshua know how to have fun and enjoy life. Their young friendship has set the tone for the both of them for their relationship in the future, and represents a fantastic example of how much fun you can have in just a few hours, every couple of weeks.