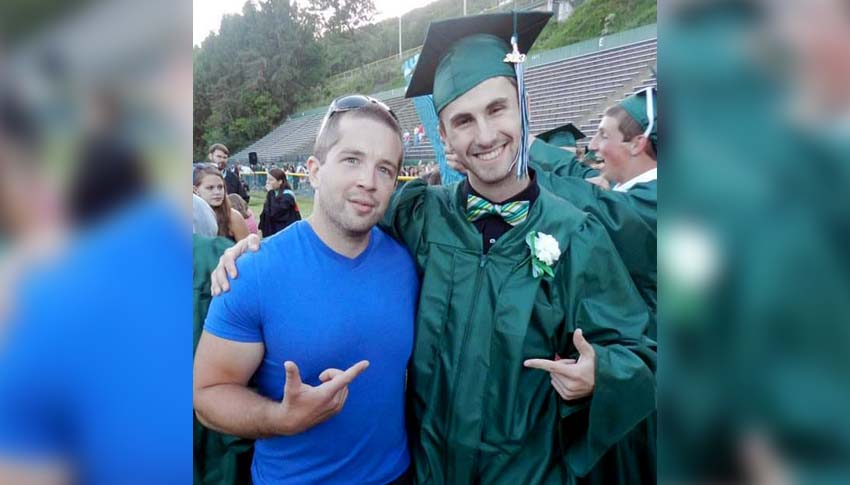 Big Brother Scotty and Little Brother Armand
Scotty, a disc jockey at a local radio station in Lehigh Valley, near Allentown, Penn., may not remember what caused him to get involved with Big Brothers Big Sisters of the Lehigh Valley, although he knows that the relationship he established with his Little Brother Armand is one that has been life-changing for both men.
"I don't know exactly why I got involved [with Big Brothers Big Sisters], but I had a ton of free time, and I wanted to do something productive," Scotty said. "I ran into a representative from the organization at a live radio broadcast I was hosting, and I thought it seemed right up my alley." Armand's father passed away approximately two years before he and Scotty were first matched, so his mother signed him up with Big Brothers Big Sisters.
"He was pretty quiet and really nervous when we first met," Scotty remembers. "His mom explained his situation to me and couldn't have been more supportive when the match was starting out." When their match first began, Armand was a relatively reserved 11-year-old boy. Scotty, on the other hand describes himself as a "complete extrovert." The two, in time, would become the perfect match. Their initial meetings were often spent simply getting to know one another, going out to dinner and having a conversation. Scotty came to realize that Armand really needed a male role model to help guide him through some of the challenges of growing up.
Ensuring that he was a regular presence in Armand's life, Scotty would often stop by to see Armand on the way home from work.  "We both had somewhat busy schedules, so lots of times we'd just go out, get pizza, play video games or talk about school," Scotty said. "I wanted to lend a listening ear. We shared a lot of the same interests, we were both really into sports and martial arts, and it just clicked."
Yet, the longer they were matched, and the more adventures both shared—Scotty took Armand to his first concert, the pair went whitewater rafting and they visited a ton of Pennsylvania's major landmarks—the more Armand started confiding in Scotty.
"As we grew closer, he would call me to discuss his day to day issues," Scotty said. "He was going through typical stuff growing up, and I helped him out. For instance, I taught him how to shave. When he got older, he'd give me a call and ask for career and college advice. I always told him to do exactly what he wanted to do, and to make sure to find something he was passionate about."
Scotty was present at a lot of big moments in Armand's life, including both his middle- and high school graduations, and supported him when he earned his Eagle Scout badge. Armand now attends the University of Scranton, where he studies nursing. For his part, Scotty recognizes the influence that Armand has had on his life.
"It was amazing to be there and see the excitement someone young like him felt during our activities," Scotty said. "I really learned a lot from him, and for the years we were matched, I saw him even more than my own family."
While their match has closed, the two are still very close, and try to see each other every couple of weeks. Their match is just one example. There are still tens of thousands of children waiting for a Big Brother like Scotty. With your support as a donor or volunteer,  you can help to end the wait.