MATCH OF THE YEAR
Each year we choose one extraordinary match to represent our local agency as our official Match of the Year. We celebrate their friendship throughout the year and the shining example they set for the rest of our matches.

The pair were matched in 2018 when Daylen was 14 years old.
As a single mother of three with Daylen being the only male in the house, his mom felt it was crucial for him to have a positive male role model to spend time with, especially since his father is not in his life. Daylen began to be involved in local activities, such as cub scouts, karate, soccer and lacrosse, which gave him an outlet. Within those local activities Daylen still did not have any real male contact.
"There's true comfort in knowing your Big is there for you whenever you need them. James and I push each other to our limits and break down our boundaries together. Bigs are extremely influential and the lessons we learn from them mold us in ways we don't realize until we see our growth." –Little Brother Daylen
James is excited to be right by Daylen's side to witness the incredible things he'll undoubtedly accomplish in his life. Daylen has a bright future and limitless potential.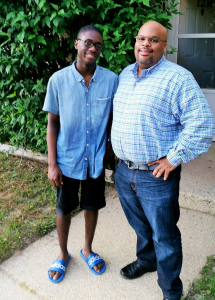 Over these last few years James has seen him grow exponentially (literally and figuratively). He has an amazing entrepreneurial spirit. One moment he's talking about his favorite business class, and the next moment he has set up an LLC for his car detailing business. Turning a passion into a profitable business before he graduates from high school is a great foundation for reaching his highest highs. James looks forward to many years of friendship and benefitting from his Little Brother's wisdom, generosity, and kindness.